Clicking on the pictorial representation allows the cabinet cutout to behave as a pipe chase.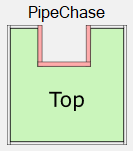 Click to view Size and Position wizard
Size and Position Options
| | |
| --- | --- |
| Option | Explanation |
| Position from | Left/Right - where the pipe chase is measured from. |
| Distance from | Left/Right - how far from the left/right the pipe chase is. (Measured from the centre of the chase). |
| PipeChase Width | The width of the pipechase. |
| PipeChase Depth | The depth of the pipechase. |
Allow for Gaps Options

Options to allow for gaps - Click to Expand
These checkboxes add a gap to the specified edge of the pipe chase.
This allows for the pipechase to sit inside the carcass adding construction holes.