The Mach.Parts > Bottom page of the / Properties provide options for fixing Bottoms to Ends, Divisions and Mullions. There is also the ability to determine the inside radius for Corner Tops.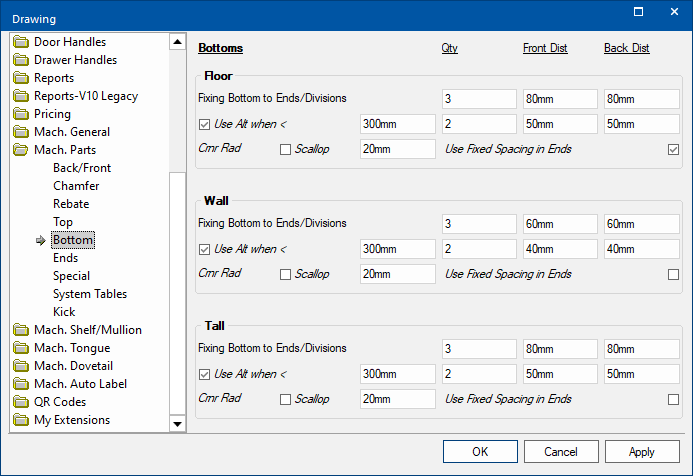 Different settings are available for the different Cabinet Types (Floor, Wall and Tall) along with an alternative set for narrow cabinets.
Bottoms to Ends and Divisions
If the Bottoms are to be held on by screws and the holes are to be drilled in the Ends, then there are two (2) methods of manufacture. However, any other fixings just use the first method.

Method 1

For each cabinet type, a quantity of fixings can be defined with a minimum of two fixings used.

The first two (2) are placed at the selected distance from the 'Front', with the remained equally spaced in-between.

If the Use Alt when check box in ticked and the 'Bottom' is narrower than the Size specified, then the alternate set of values are used instead of the above.

Method 2

Only available when screwed together and Bottom between Ends.

Up to four (4) screws can be used and their positions are fixed based on the distance from the front. This option is useful if the Bottoms are to be End drilled on a separate machine with fixed holes spacing.

When Use Fixed Spacing in Ends check box is ticked, an additional page Mach.Parts > Ends page is made available. This option also allows for up to (2) two locating dowels to be drilled of a different size and depth.

Mach.Parts > Ends page - Click to Expand
Corner Radius
When any internal corner is cut using a flatbed router, it will always leave a rounded corner. If this is to be different from the radius of the tool, then it is specified here.
The same settings in the Bottoms, for both Rails and Mullions, are used in

Tops

.