The Mach.General > Hinge page of the / Properties allows the default to be set for the vertical positioning and quantity of hinges.
These settings similar to those defined on the Hardware > Hinge Qty page, except this page has additional options.
Overrides are available in some cabinets.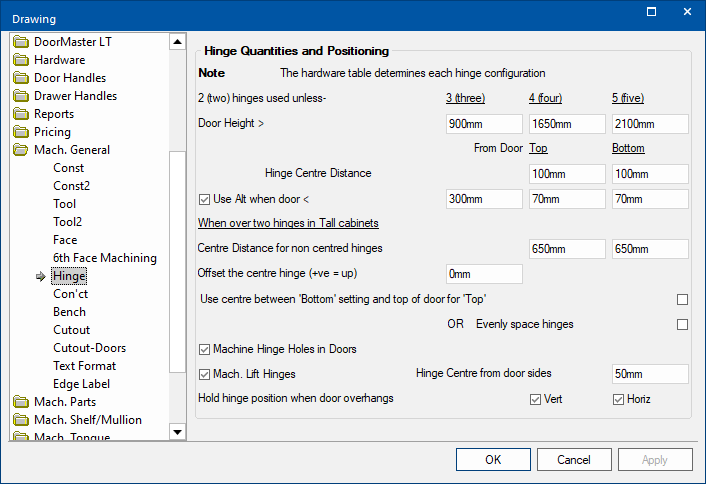 The heights shown are all based on the position on the door (not the ends) and are to the centre of the hinge cup hole.
2 (two) Hinges used unless Door Height >
Two, three, four or five hinges can be placed on each door. The quantity used depends on the height of the door as specified here.
Hinge Centre Distance
The distance of the upper and lower hinges are from the Top and Bottom of the door.
Use Alt when door <
The position of the upper and lower hinges when the door is under a given size.
When over two hinges in Tall cabinets
Offset the centre hinge

option provides the ability to offset the position of the central hinge of a 3 or 5 hinge door up or down. A positive (+ve) value moves the hinge up and a negative (–ve) moves it down.

Also available on each cabinet that has the other Hinge overrides.
Evenly space hinges

option can be enabled.
Examples
Machining Options
Machine Hinge Holes in Doors
Turn on/off option using checkbox. (Default is On). Whether or not hinge holes are present in the machining of doors.
Mach.Lift Hinges
Turn on/off option using checkbox. If turned on, the Hinge Centre from door sides edit box is made available. This is used by standard hinges used on the top of doors.
Hold hinge position when door overhangs
Checkboxes allow you to select Vert (Vertically) and/or Horiz (Horizontally).

Hinges can be forced to ignore negative door overhangs to avoid the hinge moving too close to the bottom of cabinets if the door was overhung.

Default ON, is for the hinges to ignore negative door gaps and remain fixed as the door overhangs.