The Form allows for the creation of any number of sets of runners for each Drawer Runner group, along with the heights at which they should be used (up to 5 runners per set).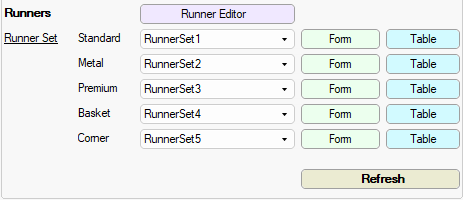 Hardware > Managers page - Click to Expand
The tables for runner sets can be found in <your CabMaster folder>/Table/RunnerSet. There are five tables...
RunnerSet1.qlt - for Standard
RunnerSet2.qlt - for Metal Standard - See example of Form and Table below
RunnerSet3.qlt - for Premium Metal
RunnerSet4.qlt - for Basket
RunnerSet5.qlt - for Corner
Runner Set Form and Table
This is an example of the Form and corresponding Table for a Metal Standard runner set.
The Based on Front Height Only option is turned off as this is the default setting.
Associated RunnerSet Table
Available Drawer Space
Calculated as 'Front Height' minus Bottom Drawer Overlap (if applicable) minus Top Gap plus Top/Rail Thickness (if applicable)
Example: With a top drawer front at 162, the space for the Top Drawer is 162 - 16 - (20+16) = 110
As it is the top drawer, it does not include the gap beneath the drawer.
The height is the available space in the cabinet, not the drawer front height.
The available space is the drawer front minus any required gap below the drawer box minus any required gap above the drawer box.
Note that if it is the top drawer, a rail will interfere with it.
Based on Front Height Only option
If the 'Based on Front Height Only' option is turned on/checked, CabMaster will set the height automatically based on the panel height.

Extra Notes

Option On: The specified 'Height' will relate to the actual panel coloured front of drawer.

Option Off: The specified 'Height' relates to the internal height of drawer which is often specified in your product suppliers catalog.

To use the 'Based on Front Height Only' option the Runner Set Table must have a column FH

No - default
Yes - use 'Front Height Only'